Specializing In:
Ventilation Design and Installation
Industrial Plant Maintenance
Backflow Certified
Equipment Setting
Process Piping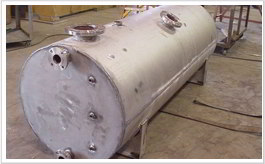 Industrial Plant Maintenance & Ventilation Design
The RG Smith of Mansfield office has a team of project managers with over 75 years of experience in the steel fabrication and manufacturing industry. Having helped countless industrial businesses improve their operations with its range of services offered, the Mansfield branch is committed to providing customers ultimate service 24/7.
Services provided through the Mansfield location include light gauge sheet metal and the fabrication and installation of any industrial piping. Whether it means rearranging your plant or operation to meet building codes or to make for more dynamic workflow, the Mansfield office is up to the task. We also design, build and install steel tanks, conveying systems and numerous other industrial systems.
The Mansfield location is a state licensed HVAC and plumbing contractor. So you can depend on the RG Smith-Mansfield location for overseeing a revamping to your climate control system(s) and reconstruction for your bathrooms, be it an addition or expansion. No matter your operation's needs, our business works closely works with you to ensure your project is designed to perfectly fit your needs.
Reps from our Mansfield branch are also happy to visit your worksite and work alongside you to find the best solution for your company's needs. From realigning your pipes throughout your entire operation to installing sheet metal partitions, the Mansfield location can handle it. And we are renowned for our commitment to a safe work environment and holding all workers in our project vicinity to the utmost safest standards.
The Mansfield RG Smith office allows our clients to upgrade the interior and/or exterior of their plant. It is specialized in many areas for upgrading and refurbishing your plant for smooth operation and meeting code requirement. If you would like to learn more about how R.G. Smith Company can improve the functionality and configuration of your workplace, please contact us today.
Save