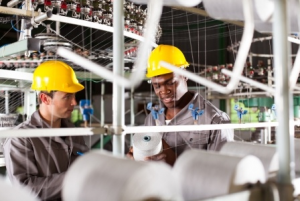 Building and setting up a food processing plant is an expensive investment, but unfortunately, building the plant is only part of the challenge. Manufacturing plants are also expensive and complicated to maintain. Changing regulations and business needs only add to the challenges. Fortunately, there are some things you can do to reduce the preventative maintenance costs for you manufacturing plant.
Preventative maintenance of buildings and equipment is essential for any manufacturing business. An effective preventative maintenance program avoids more expensive repairs in the future while also heading off costly downtime. Preventative maintenance can keep your manufacturing plant operating efficiently.
Periodically evaluating your maintenance program is an important step in reducing costs. Is unnecessary maintenance being performed on equipment? It is not uncommon for maintenance schedules to not match the current equipment. Is maintenance being performed at the right intervals? Early or late maintenance can quickly increase maintenance costs. Preventative maintenance plans should be reviewed occasionally to be sure the plan still matches the current needs of the plant, says Plant Engineering.
Synchronizing preventative maintenance work with the plant schedule can also help to reduce downtime and make maintenance more efficient. Are there certain hours, days or even seasons when maintenance will be less disruptive to your production? Since preventative maintenance is a preplanned activity – sometimes weeks or even months in advance – it makes sense to schedule that maintenance for a time when it will be least disruptive to your operations.
Fitting the preventative maintenance plan into a broader, comprehensive maintenance plan can also improve maintenance efficiency. Work with your team to have a plan in place so that you have parts ready and maintenance staff or contractors available to limit your overall downtime – especially if making upgrades or repairing damaged equipment at the same time. Whether a particular project is planned or unplanned, the faster the work is completed the less interruption there will be to production.
R.G. Smith Company is known throughout Ohio for our high quality of work and our quick turnaround times. If you need to replace worn parts or install new industrial-grade sheet metal fixtures at your food processing plant as part of a routine maintenance schedule or to repair a failed component, we can help. Call us today at 330-456-3415 (Canton) or 419-524-4778 (Mansfield) to find out more.