A trend you can trace back to mid-century New York City, particularly from the 'Beat Generation,' apartments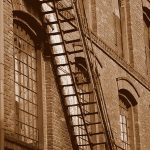 converted from old industrial complexes is an increasing trend. Seen in both large and medium size cities across the country, apartment conversions are seeing increasing momentum, particularly across the so called 'Rust Belt,' spanning sections of Illinois, Michigan, Ohio, Pennsylvania and Upstate New York.

Having really kicked off in postwar New York City with starving artists who couldn't afford traditional living situations, and initially considered an anti-conformist principle, former factories or warehouses for private dwellings became a growing trend. The face of neighborhoods across the City- originally in Greenwich Village- changed dramatically with these transformations.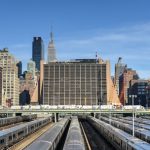 By the late 1950's Greenwich Village, or the Village, was known for its extremely low rent. Ironically now among the most expensive real estate in the country, this where the concept for what we now know as industrial architectural was born. And from here this style planted firm roots and has since steadily grown, not only up the West Side of Manhattan but across the entire country.

This postmodernist adaptive reuse movement didn't really takeoff anywhere beyond New York City until gentrification was seen across other American cities in the 1980's. As the culture of money hungry yuppies who wanted to live near their place of work eclipsed the counterculture of starving artists, the cult push began taking hold, initially in New York, then to neighboring cities such as Boston and Philadelphia, then Los Angeles.

But even in the 1980's, reclamation projects weren't a fraction of what they are today, due in great part to gentrification then not being a fraction of what it is today. But as neighborhoods gentrify, reclamation of old and unused buildings become useful housing responsible for driving up a municipality's tax base rather than decrepit and useless shells of their former selves.

The reclamation in gentrification across American cities has also had a serious impact on crime rates. This is because it is common for these once abandoned buildings and structures now being used for apartments and condos to have been used for drug dens. Housing hundreds of addicts, homeless and just folks wanting to stay off the radar, abandoned factories and warehouses are a hotbed for criminal activity.

As reclamation with gentrification throughout the early and mid-1990's exploded, it was evident the higher standard of living came with it. This was due to sharp declines in crime rates across these cities, which have remained relatively low and flat ever since. Aside from the demographics shift from the baby boomer population and the crack epidemic having come and gone, much of this can be chalked up to economic prosperity seen through this era and many of these retrofitting projects.

Cities like Pittsburgh, Buffalo and Cleveland are seeing billions in dollars of private investment to reclaim structures and factories, many of which the cities owe their initial existence. In the bustling downtown core of Buffalo, developer Rocco Termini has led a mad-grab for long forgotten buildings to remodel using historic tax credits from the state of New York. Among his most significant projects was the Hotel Lafayette, which underwent a $35million renovation in 2010 to now house 92 apartments and 57 hotel rooms. This not only changed the entire face of the city but encouraged a ripple effect with an ensuing hotel boom. This is also part of a factory and warehouse reclamation movement on the City's waterfront.

Meanwhile, in Cleveland, the Fairmont Creamery factory just opened after undergoing a $15million reclamation renovation (not to be confused with the identical Fairmont Creamery project- and price tag- underway in Buffalo). The 106,000 square foot building will feature mixed-use development for both commercial and residential purposes. The 40 apartments ranging in size from 400 to 1,800 square feet offer residents sweeping views of the city and modern design- a far cry from the burnt out shell it was this time last year.

Regardless of how this movement has witnessed monumental expansion over the past 25 years, it is now a significant and powerful force. Led by building developers everywhere from Cleveland to Buffalo to cities with less dense populations, such as Pittsburgh and Cincinnati, not so much a building boom is well underway so much as a recovery improvement boom. These cities are witnessing drastic improvements with blight being converted to architectural works of art, and subsequent infrastructure improvements.