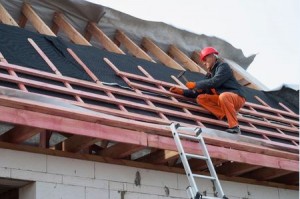 The energy efficiency of buildings is becoming a growing concern for environmental and financial reasons. Not only are business owners increasingly interested in energy efficiency, but government regulations are requiring and rewarding greater efficiency as well. One way to improve energy efficiency is with the right wall and roof sheathing.
Wall and roof sheathing serves several purposes on a building. The sheathing surrounds the frame and encloses the entire structure, providing protection from the elements. It also may serve as part of the structural strength of the building, and may also be used as a backing for exterior siding.
Sheathing like OSB and plywood has traditionally been installed horizontally. Some areas are now requiring at least some of the sheathing be installed vertically as it provides more resistance to wind damage, notes The Homeowners & Trades Resource Center. The vertical orientation also provides some energy efficiency improvements though as the expansion gaps between panels line up with a joist and prevent air leakage.
Radiant barrier sheathing is another development that can contribute to gains in energy efficiency. The value of radiant barrier sheathing is recognized by both the Energy Star and the LEED programs. Radiant barrier sheathing is made from a reflective material that radiates heat away from the interior of the building, notes the U.S. Department of Energy. The use of this sheathing on roofs and south-facing walls can have a significant impact on summer energy costs. Radiant barrier sheathing is available in rolls or pre-installed on OSB or plywood sheets.
A critical part of constructing and energy efficient building is working with experienced professionals who understand the importance of doing the job right. R.G. Smith Company has helped many companies build, maintain or improve their commercial buildings throughout the Ohio area. We can help from the initial design through completion of the building project. Contact us now in our Canton headquarters at 330-456-3415 or in Mansfield at 419-524-4778 to learn how we can help improve the energy efficiency of your building with wall and roof sheathing.