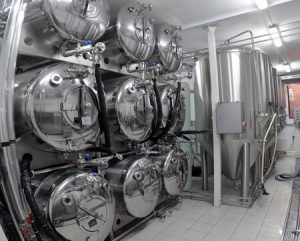 If you run a food production business or precise chemical operation requires you to keep your products or solvents cool or even ice cold, it can be frustrating when the facilities don't get the job done. When that happens, you can get a new system, but there are no guarantees that it will work the second time around. To make sure your source of income stays cold when you need it to, you might want to consider getting a custom sheet metal cold storage facility or insulated wall system installed.
R.G. Smith Company has designed custom industrial sheet metal spaces for a variety of businesses in many different industries. The products we give you can be used in numerous ways. If your business needs to simply keep things stored at a cool temperature, our sheet metal cold storage can help keep the thermometer low, making sure your product doesn't get warm or spoil.
We have developed sheet metal systems for wall insulation, helping to keep temperatures consistent whether within a large storage area or a small section of ductwork. Whatever your individual needs, you can rest assured our team will get the job done. Our sheet metal installers have extensive experience working with installing insulation systems when our clients existing solutions fail or simply don't meet their requirements. With R.G. Smith Company's custom designed solutions, you can trust that your products will stay cold and protected from ambient warmth or external contamination. We make sure that our installation process has every crevice and corner covered, leaving no weak spots for cool air to escape.
We have worked with large companies and small and we will work with you to make sure you get the solution you need to keep your business running at an optimal level. At R.G. Smith Company, we specialize in industrial sheet metal fabrication for businesses in the greater Ohio region. For more information on our sheet metal fabrication or any of our other services, feel free to contact us today at either our Canton location at 330-456-3415 or at our Mansfield location at 419-524-4778.