Choosing the right materials for constructing refractory products is incredibly important, and all of them share a few of the same characteristics. There are a few different categories of refractory products, including specialties like plastics as well as refractory linings. The final form of a refractory product can vary wildly, and they include everything from standard construction bricks to objects that are much more complex. No matter what the final product is, the materials that are used to make them are almost as important as the finished result.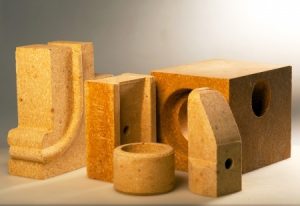 Depending on the specific refractory in question, there are several different types of materials that could be used to make it. There are a number of elements that go into selecting the right material, with magnesite, chromite, zirconia and other types of minerals common selections. In addition to these minerals, many refractory products are made out of synthetic materials. All of these materials are chosen for a reason – but most notably, their heat-resistant properties.
Why exactly do these materials need to be resistant to heat? Well, that's because most types of refractory products serve as linings for everything from furnaces to reactors. In general, any object that needs to be able to withstand heat of more than 1,000 degrees F will have a refractory lining. Of course, this is a very broad view of refractories and the materials that are used to make them, and not every refractory fulfills the same role.
Most refractories are made with either nonmetallic synthetics or a combination of minerals and various other compounds. When combined, these materials give refractories the heat and pressure resistant properties that are needed in a wide range of industries – everything from aerospace components to metal fabrication to various types of manufacturing. The final result is a product that can withstand more heat and physical wear and tear than most metals – an essential need for a range of industrial applications.
At R.G. Smith Company, we have years of experience helping construct and repair refractory equipment and facilities for our clients all throughout central Ohio. For more information or to learn more about how we can help, contact us today!