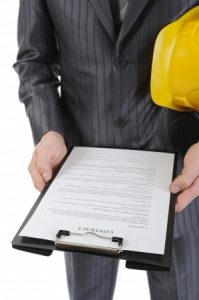 A well-drafted construction contract clearly sets first and foremost the work to be done. It will then outline a price to be paid for the work, terms and conditions of payment, various foreseeable risks between the parties to reduce any potential for disagreement and an adequate timeframe for completion.
At some point you wonder if you should really sign the contract in front of you because when the contract is signed, it generally cannot be changed. Therefore it's extremely important you are entirely clear of what you're committing to. At the very least, you must ensure such important points are covered as the following.

– The agreement should clearly state prices. Be wary of additional charges that you have not discussed with the other party. The contract should clearly outline prices, justified with itemization, the cost of material, labor and generally what you the customer should expect to pay. Make sure any potential for any additional fees to the initial estimate are clearly outlined.

-The contract should also outline and determine the terms of payment. And if you cannot afford a lump sum, discuss with the contractor a possible installment payment plan. Subsequently determine whether there are late payment penalties and if they are reasonable.

-Most importantly, the agreement should have a time frame if any aspect of your transaction will occur in the future. Make sure that the delivery schedule conforms to your needs. Also make sure you aren't signing an agreement that obligates you for a longer period after project completion. Finally, make sure the contract has a clause to protect from any anticipated problems or issues from which you would like to protect yourself.