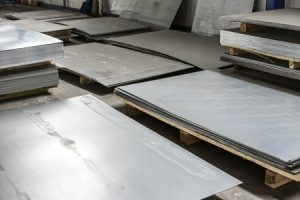 Building a stronger economy is always at the top of our nation's to do list, and sheet metal can be a major part of that future's foundation. Here at R.G. Smith Company, our own experience in the sheet metal fabrication industry tells us that signs are pointing to fruitful days ahead for this sector of our country's economy.
The past few decades have seen some unfortunate declines for American manufacturers of sheet metal, steel and other construction materials, as many of our readers are aware. With money leaving this sector at a fast clip, these jobs are no longer seen as the stable career that they used to be.
However, we've noticed a bit of good news about one company's investment in educating the next generation of architectural workers for sheet metal work. As this article from the Midland Daily News reports, one company from the town of Portland, MI, is hoping that a new partnership with the Greater Michigan Construction Academy will help improve recruiting for a growing field.
The academy has facilities in Midland and Lansing, two central Michigan communities separated by about 80 miles. Architectural Metals of Portland is currently working with the academy to create a specific curriculum for the kind of corrugated and insulated steel work performed by this firm. The training program will also include education preparing workers for Architectural Metals line of custom sheet metal trim products.
An investment in education is one way of showing confidence in the potential for any industry. If a sector of the economy wasn't making a profit, there would be no funding to pay for educational programs. Training new workers says that there will be more work to offer these skilled laborers.
Throughout Ohio, the R.G. Smith Company is proud to be able to offer the expert abilities of its staff for any sheet metal fabrication or construction project. If you're an underemployed individual in the communities of Canton or Mansfield, we're growing our business as well. Check out our Now Hiring section on our Home page for more details.