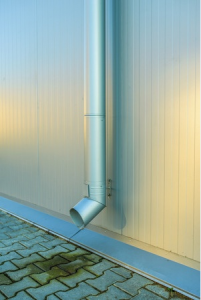 Gutters and downspouts may not look like they do much, but they are rather an important part to every commercial property. Gutters keep water from causing foundation problems to structures – they prevent water stains on brick and stone masonry; they channel water away from entry doors; and they prevent water damage to siding – while the sole purpose of a downspout is to carry water from a rain gutter. As you can see, they're both extremely beneficial and a necessary features as part of every kind of commercial structure. So, are your gutters and downspouts doing their job correctly?
There are many reasons why gutters and downspouts might not work as well as they should. Gutters typically should last for as long as two decades with the proper maintenance. If your gutters are old or broken, they won't operate as well as those that are brand new or just a few years old. If you're not sure whether to replace your gutters and downspouts or not, we can help.
Signs you need to stop repairing and start replacing:
• Loose gutters or gutters hanging from your commercial buildings roof
• Leaking or flooding occurring in your structure
• Frequent clogs in your gutters
• Pooled water near your downspout
• Rusting or cracked gutters
• Sagging downspouts
• Holes, rusting or bubbling in downspouts
These are a few of the most common signs to be on the lookout for when you're considering replacing your buildings existing gutters and downspouts. If you're looking at needing to install new drainage, R.G. Smith Company is the name to know. We can design a custom solution for your building that ensures your commercial structure, employees and customers stay dry and the water stays where it should – outside and away from the foundation and entry points of your building.
Benefits of Custom Gutters & Downspouts 
Custom gutters and downspouts are made to your exact specifications. They can be made of all different materials, not to mention tailored to meet size needs and even custom colors. Don't settle on products that are of poor quality just because they're cheap, or ones that don't match your office's siding because you need new ones installed right away. Custom gutters and downspouts never compromise on quality. They're more affordable than you might think, not to mention visually appealing and offering a more reliable and durable solution for your building. A comprehensive system can help minimize pooling on flat roofs, draining alongside foundations, or direct rainwater away from access doors or loading docks.
Keep your commercial building as dry as you can with custom gutters and downspouts! To learn more, contact R.G. Smith Contractors today!