American cities are changing from the outer rings to the urban centers, especially in the older, Northeast cities. Neighborhoods once with no money, and subsequently no tax base, now have taxable properties streaming revenue to city governments and enriching communities. This is thanks is great part to the affordable inner city housing and the increasing population willing to make this housing livable.

But there are cities where investors, or home flippers, are likely to see a better return on their investment than in others. Obviously the most affordable piece of real estate in Manhattan are easily three times the cost of an average piece of real estate in a more affordable town like Pittsburgh. So the more affordable cities are the places you're going to see a better return thanks to the lower overhead and initial investment.
Philadelphia, PA
In west Philly, gentrification is spreading like wild fire. Not only are there plenty of original and affordable housing stock right now, the state tax credits for buying homes in this section of the largest city on the list are unmatched anywhere in the nation. But with the young urban professionals being chased out of New York, plenty of them are headed south to the City of Brotherly Love. And they are taking no prisoners. So if you want to get in on the ground floor with your housing investment in Philadelphia, remember time is of the essence.

Buffalo, NY

The safest and smallest city on our list– based on crime per capita– Buffalo is a very consistent place to invest in real estate. Staying the course with consistent pricing throughout the housing boom, and avoiding the subsequent bust, you aren't going to see many bubbles in this town. In combination with the significant building boom in the Buffalo urban core right now, this city is primed for residential investment. And thanks mostly to its comparatively smaller size, it's impacting real estate prices in every enclave in the city. Also boasting one of the lowest unemployment rates out of most major cities, supporting yourself is also a reality in the Queen City. But not unlike Philadelphia, vacancies are filling up fast, so getting your house quickly will promise the best return on your investment.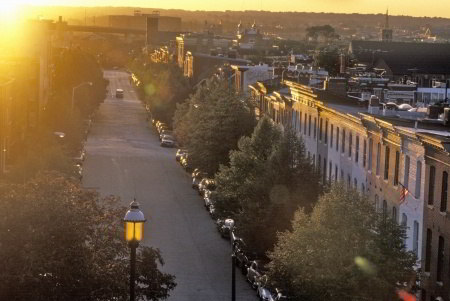 Baltimore, MD
This city is currently balancing a crucial line between gentrification and old residents' resistance. But for the price of a row home in one of the many downtrodden sections of Baltimore, you can buy entire blocks to renovate on your own. With homes going for as cheap as $3,000 in some of the more high-crime areas, it's safe to say your initial investment in Baltimore can remain quite low. But this city might be for a more of a pioneering type; even though there is plenty of job stability and growth throughout the area (Washington DC is only about an hour and a half away), the city itself has witnessed sizable poverty in recent decades. But every revolution starts with a single bullet– If you build it, they will come.