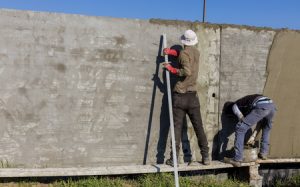 When Major John Spencer was deployed to Iraq as an infantry soldier back in 2008, he knew that he would learn a lot about war and everything that goes along with it. What he didn't know, according to a piece he penned for the Modern War Institute at West Point, was that he would also learn a lot about concrete, which has quickly become one of the most effective weapons for those in war zones.
Spencer described a variety of ways that he and his fellow American soldiers utilized large concrete T-walls to provide protection for both the U.S. armed forces and Iraqi civilians. The T-walls, which were sometimes as high as 12 feet tall, were routinely placed along busy highways to prevent enemies from detonating IEDs easily. They were also used to cut off the supply lines of opposing forces and to make travel more difficult. Without concrete, Spencer wrote, soldiers wouldn't have been able to "reduce violence and protect the local population" as effectively as they did throughout their deployment in Iraq.
During the war, which lasted for eight years, American forces devoted months and months of time to building concrete barriers throughout Baghdad and other major cities in Iraq. Spencer suggested that without these walls, there likely would have been a much larger number of lives lost. It's why Spencer and others have recommended that the Pentagon think about utilizing concrete even more in the future whenever they need to provide protection in war zones.
While concrete has become a mainstay of soldiers stationed all across the world, the properties that make it such an effective material, like its strength and resiliency, are just as useful back home as well. Concrete is affordable and durable, and can be used for a number of construction projects. From installing a new concrete driveway to laying down the foundation for a new building, RG Smith Co. can work with you to plan a concrete construction as part of your repair, renovation or expansion projects. Call us today at 330-456-3415 or at our Mansfield office at 419-524-4778.